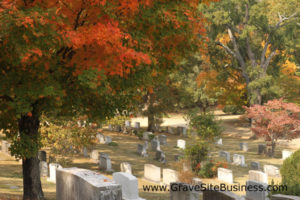 Autumn is a perfect time for Grave Care Services
And here we are in September. The long, hot, dusty summer is coming to an end. Ahead of us are days of slightly cooler weather and azure blue skies. Autumn is my favorite time of year and my favorite season to spend in my many local cemeteries.
Autumn brings with it the need for Grave Care Services. Grave plot maintenance, tombstone cleaning, and change-outs of grave side floral decorations are of particular interest right now. Additionally, those of you performing gravestone restoration services should complete your gravestone repair work before harsh winter weather arrives.
Have you ever thought about starting a Grave Care & Cemetery Maintenance Business? We have developed a professionally produced Grave Care Business Course. This course is designed to help you start and operate your own successful Grave Care Business.
Please read through our website to learn more. If you have questions, please let us know via our Contact Page. We love cemeteries and are always happy to answer your grave care related questions.
To order the course, visit our main page here:
Grave Site Business and Cemetery Maintenance Business