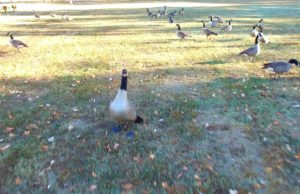 For we are entrepreneurs; there is no challenge which doesn't have a business solution….even Goose Poop.
I was in one of our large local cemeteries last weekend. I've been there hundreds of times yet I've never seen a single goose until yesterday. There were dozens of geese wandering through a section of the cemetery near a small pond. The pond normally contains ducks but the geese were overrunning the whole area.
Local residents like to feed the ducks. However, I wonder if the aggressive geese will force the ducks to leave.
If you've ever been around geese, I'm sure you know the expression "like poop through a goose." Yes, they're nasty and they poop on everything. Geese show no respect for gravestones and I saw many grave markers covered with familiar goose poop markings.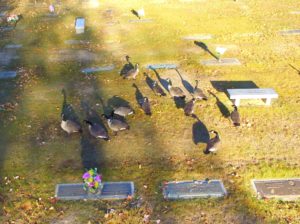 "Yuck. Disgusting." is what I originally thought. But, soon, it occurred to me that this goose poop is an income possibility for Grave Care Business owners. When it comes to money vs. keeping goose poop off gravestones, family members will pay good money to make sure their loved-ones gravestones are not stained by the unfortunate fouls.
Goose poop on tombstones is something I will be studying the next few weeks. This will become a new income stream for Grave Site Business owners who service cemeteries in areas affected by geese.
If you've ever thought about starting your own Grave Site Maintenance Business, this is a fantastic time of year to get started. This is a profitable and rewarding business. We have developed a professionally produced Grave Care Business Instruction Course to help you start and operate your own successful Grave Care Business. Read through our website to learn about the business course. You can order directly though the ordering page and we will ship it to you promptly.
Goose poop notwithstanding, please let me know if you have any questions about the Grave Care Business course.
Thank you:
Keith
www.GraveSiteBusiness.com