Sharing my love of cemeteries, gravestones, grave yards, and grave care, is important to me. I feel very lucky that I have a passion in life and this passion allows me to visit cemeteries all over the world. I'm lucky (I know that) and I want to share my passion with everyone who shares my love of cemeteries. So, in my blogs and my videos, I often like to share beautiful cemetery sunsets and interesting tombstones and well-manicured cemetery lawns. I believe if we focus on beautiful & positive aspects of life then beautiful and positive things will find us. Sure, I know life can be difficult (and starting a business can be challenging) but focusing on positive things will bring positivity into our world.
Along with visiting great cemeteries, I love finding interesting or funny or inspiring grave markers. I came across one yesterday. It was a grave marker of an adult whose parents had preceded her in death. There was an arrow on her tombstone with the words "I'm With Them." Though death of a loved one is sad, the positivity of this inscription lightens the sadness.
This morning, I was in a new (new to me) cemetery performing documentation work. As I strolled the grounds looking at gravestones, I found a gravesite inscription that brought me down a few notches. As I read his tombstone, I wondered what his life must have been like? Was he sad all the time? Was he mad all the time? Did he have health problems? Or family problems?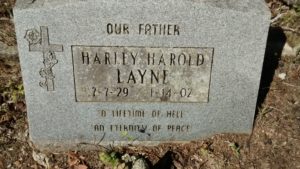 "A Lifetime in Hell?"
For such an inscription to be placed on a man's tombstone….it makes me wonder about this man's focus in life. If he would have changed his focus in life to a more positive outlook, could he have had a happier and brighter disposition?
Maybe.
Changing people's lives – The more I speak with people around the country, the more I realize many people enjoy exploring cemeteries. One of the reasons we developed the Grave Care Business Course is to help people start their own Grave Care Businesses. It gives an opportunity to start a fulfilling, worthwhile business. Doing something fulfilling and worthwhile (and profitable) gives you a positive outlook on life.
If you've read through our website, you know that we offer a professionally produced Grave Care Business training course designed to help you start and operate your own successful Grave Care Business. I love hearing from people we have helped. Entrepreneurs sometimes struggle with starting their own businesses – We're here to help.
Grave care is a rewarding & profitable business and I love focusing on the positive aspects of helping people get started.
If you've ever thought about starting your own Grave Site Maintenance Business, I think you will be very pleased with the amount of material included. Your parcel will be shipped promptly after you order. If you have any questions. please let me know.
Thank you:
Keith
www.GraveSiteBusiness.com