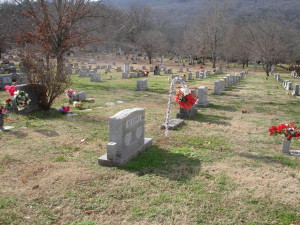 Christmas Grave Decoration Placement
Christmas headstone decorations are an important part of any business that offers grave care floral decoration placement services.
We will see a dramatic increase in the request for floral placements. Christmas is a very busy time. Family members want their loved one's gravesites decorated for the holidays. A simple wreath, a small Christmas tree, or a poinsettia in a basket help bring a festive touch to a gravesite. Even if the family members are not planning to visit the gravesite for Christmas, they want to know that the headstone is decorated.
There are several things to consider when operating a grave care business. Proper placement of floral decorations should be done in accordance with cemetery rules of operation. We find that knowing these rules for floral placement ahead of time allows you to give proper advice to your grave care clients. If you're going to offer floral decoration placement services this Christmas, our Grave Care Business training course will help you start your business quickly.
For more information, please visit our main webpage. When you decide to order the full course, it will be mailed to you via Priority Rush mail. There's good money to be made in December with your grave care business.